Cosmetic ink has made tremendous advancements in recent years, however, ink from years past may require special attention and care to achieve a modern, updated look.
The technicians at Trucco Skin specialize in color corrections of cosmetic tattoos that have faded to undesired color over time, as well as cosmetic tattoo lightening/removal for the unwanted pigment in the scalp, brows, lips, and body tattoos the size of a business card or less. Your technician can guide and direct you in which service is best suited for you and your desired outcome.
Awarded Montgomery Country's leader in cosmetic tattoos, our goal is to offer an expert, skilled and professional service that fits your lifestyle for years to come. Our specialists are highly trained to meet your expectations with compassion and care.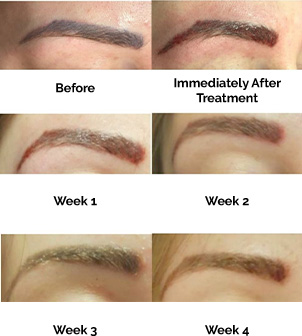 TATTOO REMOVAL | COLOR LIFTING OF TATTOOS
Service Time: approximately 1.5 hours
We will schedule your 6-week follow-up appointment at your initial service
Included in your service:
Consultation
Treatment
Red Light Healing Therapy Treatment
Aftercare Instructions
If you have a previous or dated cosmetic tattoo that you are unhappy with we offer options for correction. We are able to adjust the shape to a more flattering one or remove all the unwanted pigment, using an all-natural tattoo salt solution method that removes all colors of ink.
Saline tattoo removal involves needling a specialized, safe and natural, saline solution over and into your existing tattoo. The solution lifts the existing pigment molecules from the skin by the process of osmosis. A scab will form, which further lifts the previously placed pigment. The number of sessions needed depends on the saturation and size of your tattoo. Generally, with a few treatments, you will see significant results. Some tattoos will be removed with just one or two treatments. The treatment is repeated until the tattoo fades to your desire, or is gone. Immediately after the treatment, it is normal for the skin to be red and irritated, which will dissipate within 8 weeks. For your comfort, a topical anesthetic (lidocaine) is applied to the treatment area before the tattoo removal process.
Emergency removals may be done within 48 hours of an initial treatment, and have a greater chance of completely being removed. Please call or email us at 610-226-8070 / [email protected] if you are in need of an emergency removal and are unable to find an appointment within the 48-hour mark.
Treatment areas include scalp, eyebrows, lips, and body tattoos the size of a business card or less.
$250 PER SESSION
COMPLETE THE LOOK WITH MASH MD
Mash MD cosmetic dermatology specializes in injectables, lasers, and medical aesthetics.